Bone Suckin' Quesadillas
2023-04-06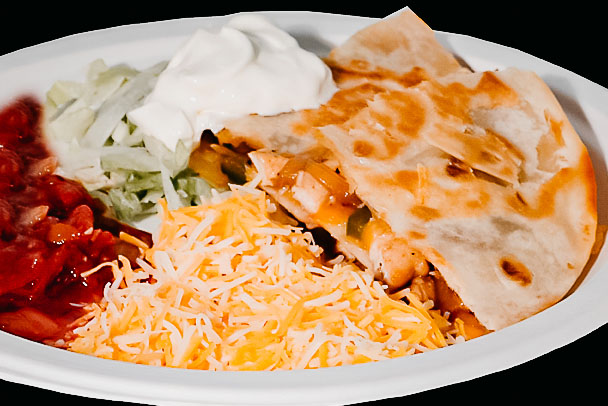 Yield:

6

Servings:

6

Prep Time:

5m

Cook Time:

20m

Ready In:

25m
Ingredients
4 tbsp Bone Suckin'® Yaki®
3 Boneless, Skinless Chicken Breasts
1 pinch Crushed Red Pepper, Ground Black Pepper & Salt
Olive Oil
1 Medium Onion
1 Large Bell Pepper (Red or Green)
2 tbsp Italian Dressing
6 Large Flour Tortillas
1 cup Shredded Cheese
Method
Step 1
Before cooking the food, wash the chicken in cold water and season with red pepper, black pepper, and salt. Lightly coat the bottom of the frying pan with olive oil. Place the chicken strips in the pan. Cover and sear the chicken strips about 5 minutes or until completely done and browned.
Step 2
In another pan, sauté the onion and bell pepper. Add the dressing and half (2 Tbsp.) of Bone Suckin'® Yaki® (or more). Cook 5 minutes on low heat. Add the cooked chicken and remaining 2 Tbsp. of Bone Suckin'® Yaki®. Heat for 3 more minutes.
Step 3
Simmer olive oil on low heat, brown one tortilla on one side about 1 minute. Place the chicken and onion mixture on top of brown tortilla. Place the shredded cheese and another tortilla on top. Flip carefully keeping all of the ingredients inside the top and bottom tortilla. Cook about 1 minute, browning the bottom tortilla until golden brown. Remove from the pan. Cut into pie pieces. Serve and enjoy! Serve with Salsa, Sour Cream & MORE Bone Suckin'® Yaki®. Enjoy! *Note: Optional: Can substitute beef strips or shrimp instead of chicken strips.