Bone Suckin' Creamy Chicken & Wild Rice Soup
2023-03-30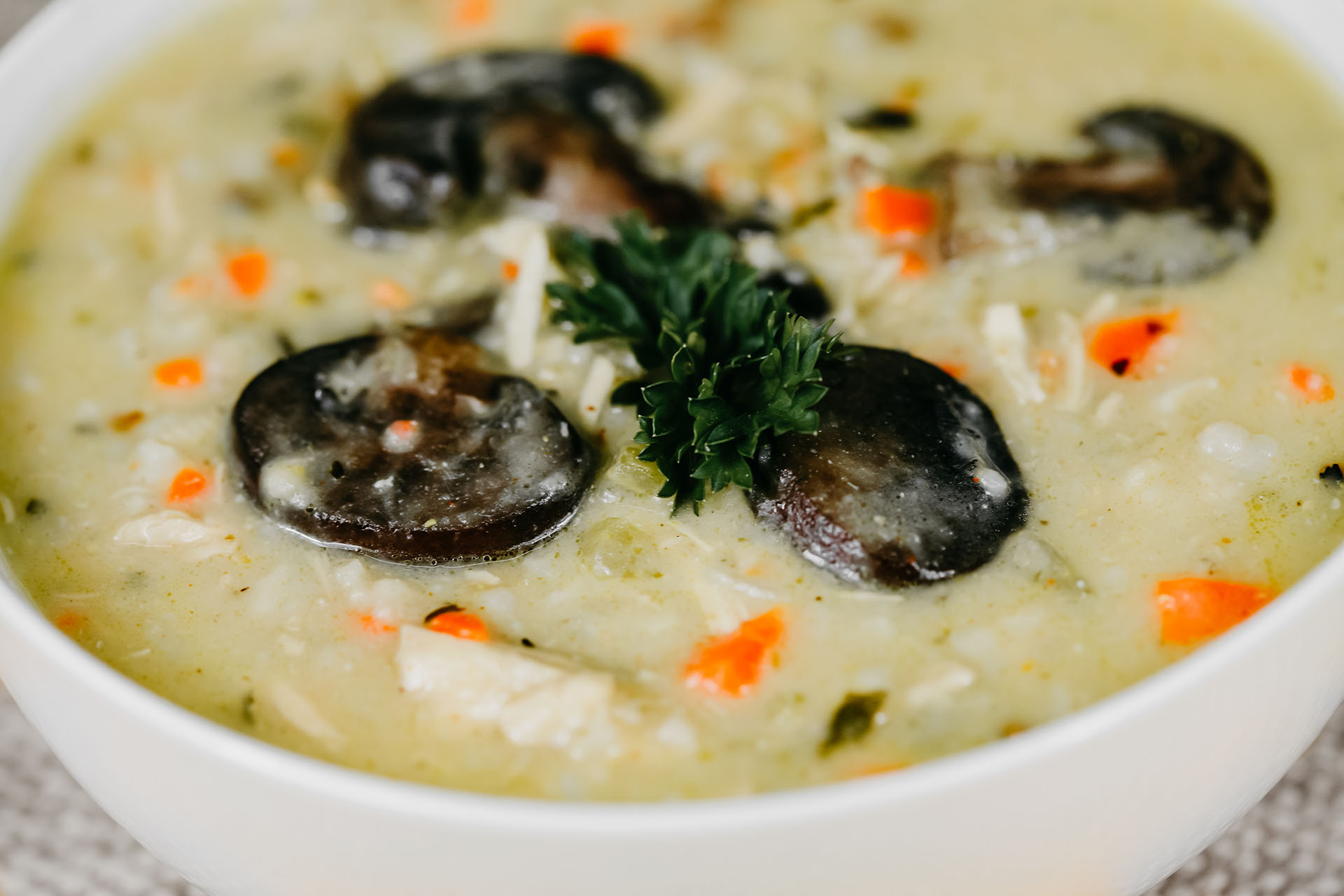 Yield:

6

Servings:

6

Prep Time:

20m

Cook Time:

3:30 h

Ready In:

3:50 h
Ingredients
Bone Suckin'® Chicken Seasoning, 2 Tbsp
Chicken Breast, 2
Mushroom, 4 oz
Celery Stalks, 3
Carrot, 1
Garlic Cloves, 2
Onion, 1/4 cup
Rosemary, Thyme, Oregano, 2 Tbsp
Chicken Broth, 6 cups
Wild Rice, 1 cup
All Purpose Flour, 3/4 cup
Butter, 1/2 cup
Heavy Cream, 2 cups
Sea Salt and Pepper
Method
Step 1
Up to a day ahead of time, slow cook the chicken breast in a slow cooker for 3 hrs. or cook on the stove for 3 hours in a medium saucepan at a medium low setting. After the chicken is done let it cool. Strip all of the meat from bone and discard the bones.
Step 2
Mix together the chicken, mushrooms, celery, carrots, garlic, fresh herbs and broth in a large pot and bring to a boil. Cook until the vegetables are tender, about 15 minutes. Add wild rice, reduce heat and simmer with lid on for 5 minutes. Remove the pot from heat, leaving the lid on for an additional 5 minutes.
Step 3
In a small bowl, combine sea salt, pepper, flour and Bone Suckin'® Chicken Seasoning.
Step 4
Melt butter in a saucepan over medium-low heat. When butter is beginning to bubble, slowly whisk in the flour mixture. Cook for a couple of minutes, until the mixture is pulling away from the sides of the pan. Bring the heat down to low (so the cream doesn't curdle when you add it to hot liquid) and slowly whisk in the heavy cream.
Step 5
Continue to whisk and cook the mixture for about 5 minutes, until it thickens. Add the cream mixture into the soup and stir until fully incorporated into the soup. Bring the heat up to a medium and heat for about 10 minutes. Enjoy!