Bone Suckin' Beef Burgundy
2023-03-30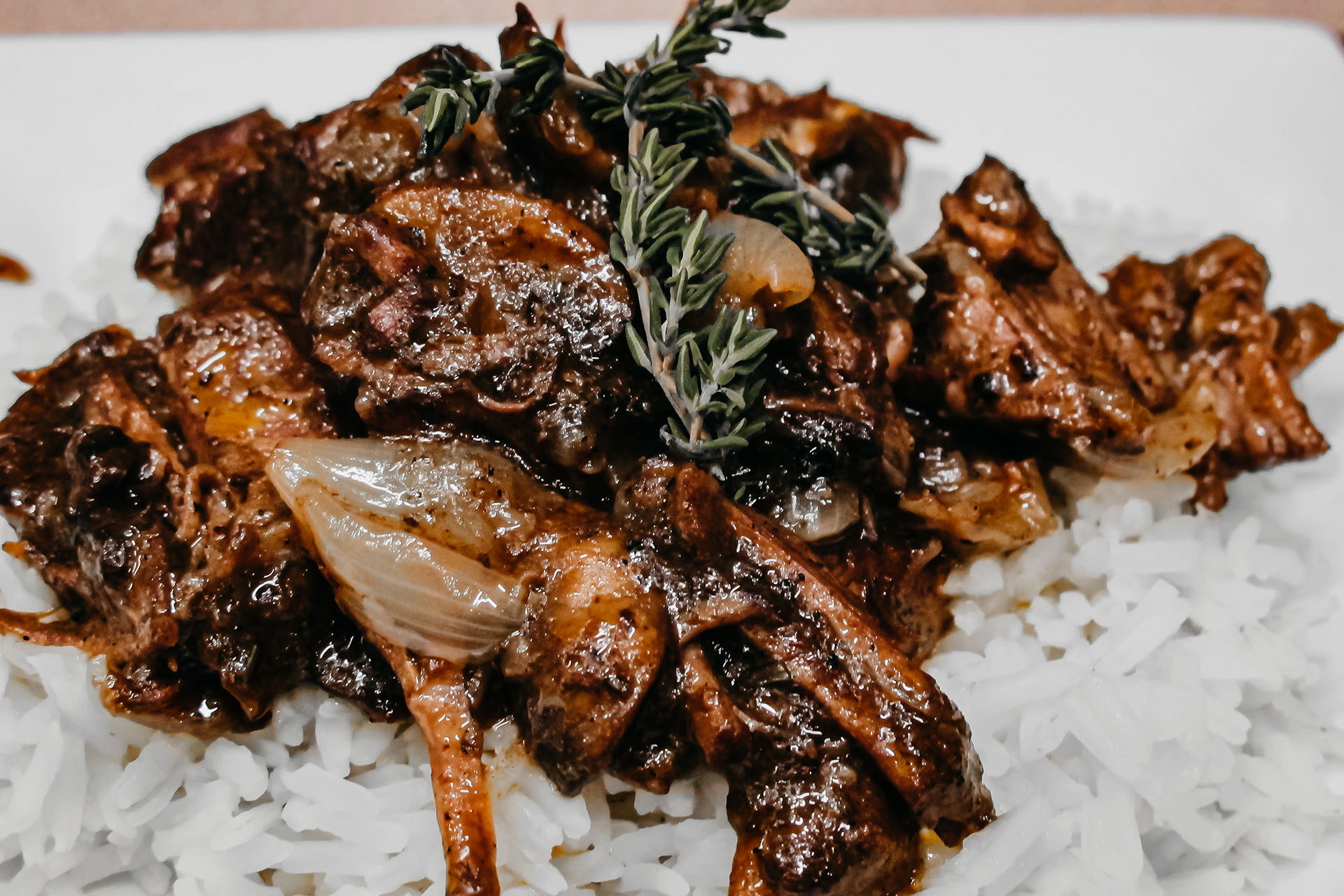 Yield:

4

Servings:

4

Prep Time:

15m

Cook Time:

2:20 h

Ready In:

2:35 h
Ingredients
Bone Suckin'® Steak Seasoning & Rub, 5 Tbsp
Bacon Slices, 4
Tri Tip Steak or Sirloin, 2 lbs.
Butter, 6 Tbsp
Mushrooms, 24 oz.
Pearl Onions, 1 1/2 cups
Brown Rice Flour, 3 Tbsp
Burgundy Wine, 1 1/2 cups
Beef Broth, 1 1/2 cups
Bouquet of Oregano, Sage and Thyme, 3 sprigs of each
Method
Step 1
Preheat the oven to 400˚ F.
Step 2
In a resealable bag, place the steak cubes and 2 tablespoons of Bone Suckin'® Steak Seasoning & Rub. Shake well to coat the meat with seasoning.
Step 3
Heat a Dutch oven to medium high and cook bacon pieces until they are brown and crispy. Remove the bacon pieces with a slotted spoon and leave any fat remaining in the pan. Add 3 tablespoons of butter and sear the meat cubes on all sides. Remove the meat and set aside with the bacon.
Step 4
Add the remaining butter, Bone Suckin'® Steak Seasoning & Rub, mushrooms and pearl onions to the Dutch oven. Sauté for 3 minutes, stirring constantly. Add brown rice flour and continue to stir.
Step 5
Add burgundy wine and beef broth. Stir well and scrape up the brown bits from bottom of the Dutch oven. Bring contents of Dutch oven to a bubbling simmer and stir well (the sauce will thicken). Add in the bacon and the beef cubes. Lay herb bouquet in the Dutch oven.
Step 6
Put a lid on the Dutch oven and place in the oven for 2 hours at 400˚ F.
Step 7
Serve over rice. Enjoy!