Bone Suckin' Yaki Ahi Tuna with Mango Salsa
2023-04-05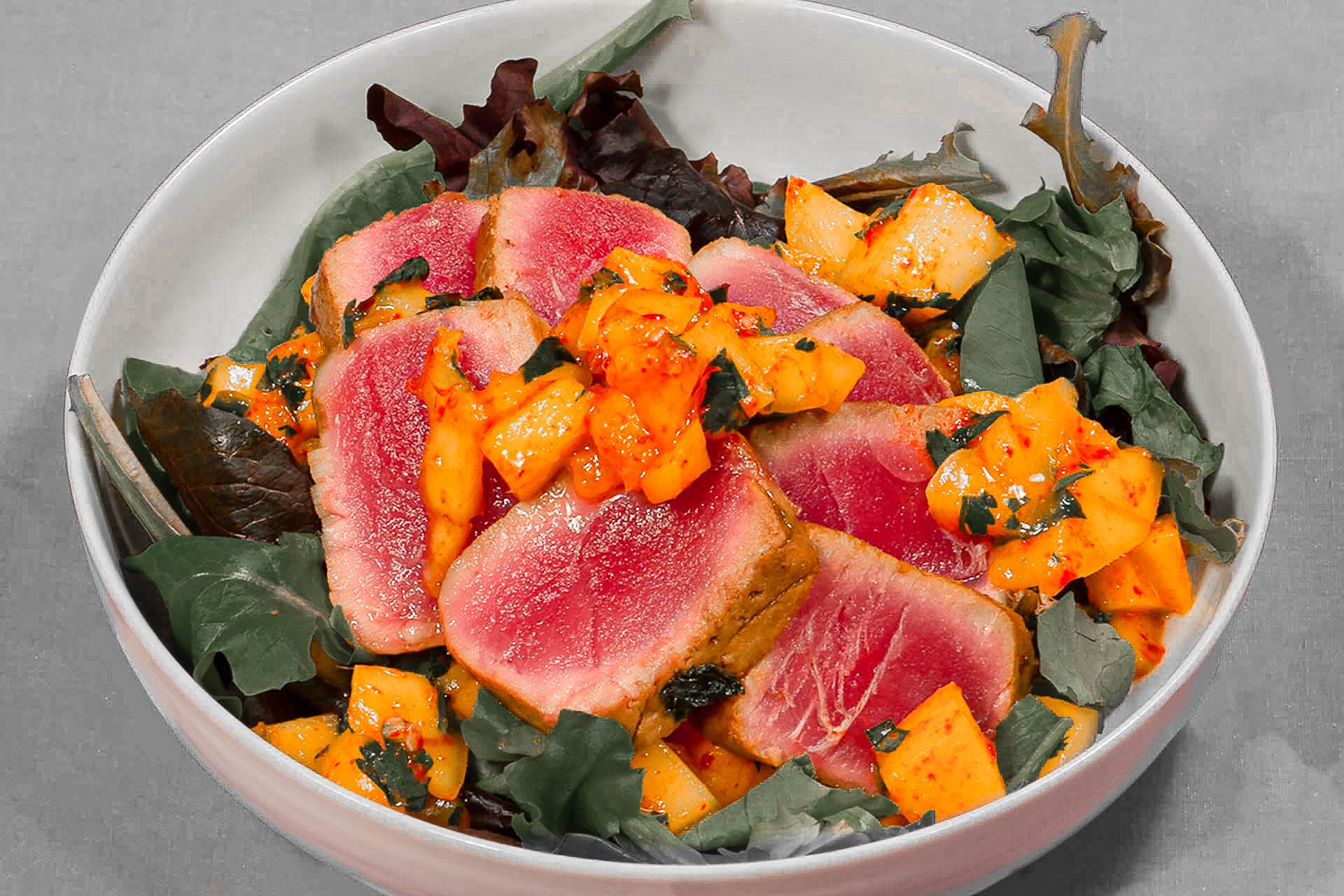 Yield:

4

Servings:

4

Prep Time:

20m

Cook Time:

2m

Ready In:

22m
Ingredients
Tuna Steaks, Sashimi Grade
1 tbsp Olive Oil
MARINADE:
1/2 cup Bone Suckin'® Yaki®
2 tbsp Cilantro
1 Garlic
1/2 tsp Jalapeño
1 Lime
MANGO SALSA:
3 Mangos
2 tbsp Roasted Red Peppers
1 Garlic Clove
1 Jalapeño
2 Limes
Sea Salt and Pepper
Method
Step 1
Before cooking the food, combine the Mango Salsa ingredients and set aside.
Step 2
In a small bowl, whisk together the marinade ingredients.
Step 3
Gently pierce the tuna steaks with a fork on both sides and place in a re-sealable bag. Pour the Marinade over the tuna and place in the refrigerator for 15 minutes.
Step 4
Add 1 Tbsp. olive oil to a sauté pan and preheat over medium. Remove the tuna from the bag and place in the preheated sauté pan. Cook for 30 seconds to 1 minute on each side depending on how you like your tuna prepared. While searing the tuna, add the remaining marinade to the pan. Remove the tuna from the pan and slice to 1/4 inch thick. Serve with Mango Salsa. Enjoy!