Bone Suckin' Spicy Yaki Wings
2023-04-03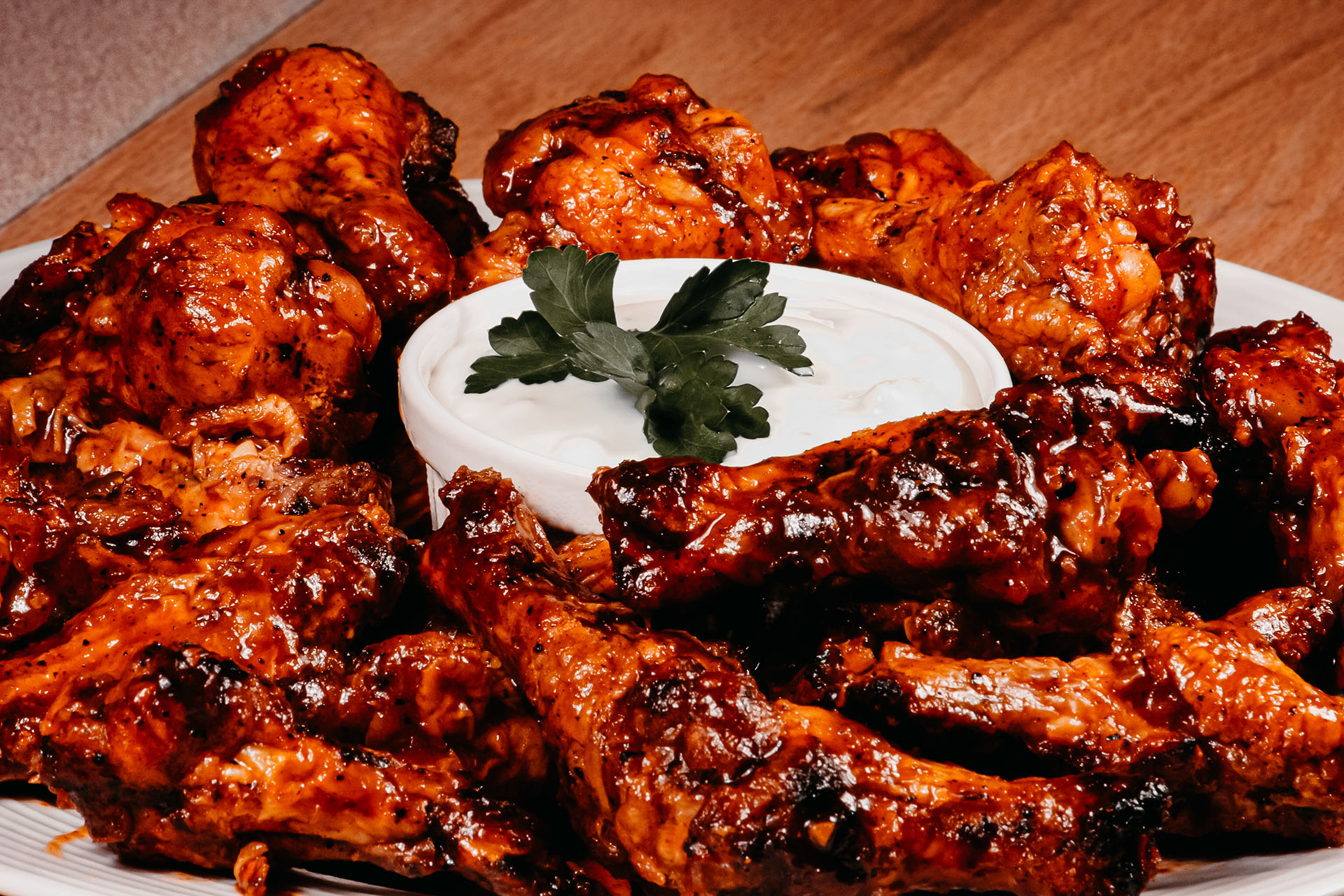 Yield:

6

Servings:

6

Prep Time:

15m

Cook Time:

20m

Ready In:

25m
Ingredients
Bone Suckin'® Yaki®, 1 cup
Bone Suckin'® Hiccuppin' Hot® Habanero Sauce , 2 tsp
Bone Suckin'® Sweet Spicy Mustard, 1 Tbsp
Chicken Wings, 2 lbs
Rice Flour, 1/2 cup
Rice Vinegar, 2 Tbsp
Garlic, 3 Tbsp
Cornstarch, 1 Tbsp
Water, 1/2 cup
Peanut Oil, 1 Tbsp
Parsley, 1/2 cup
Sea Salt and Pepper
Scallions, 1/2 cup
Method
Step 1
In a small saucepan, sauté the garlic in 1 Tablespoon of peanut oil until it is golden brown. Add Bone Suckin'® Yaki®, Bone Suckin'® Sweet Spicy Mustard and Bone Suckin'® Hiccuppin' Hot® Habanero Sauce, Rice Vinegar and stir. In a small bowl, combine corn starch and 1 Tablespoon of water, mix thoroughly, and add to the sauce. Cook the sauce at a simmer and stir. The sauce will thicken.
Step 2
Put the chicken wings, rice flour, sea salt and pepper in resealable bag and shake, coating wings thoroughly. In a high sided skillet, add enough peanut oil to fill the skillet about 3/4 of an inch deep. Heat the oil to 325˚ F and fry the wings in batches until they are golden brown on each side. After cooking food, remove the wings and let them drain on paper towels. To keep warm, set the wings in the oven at 200˚ F until all the wings have been fried.
Step 3
In the simmering sauce, add parsley and stir. In a large bowl, place the wings and pour 1/2 to 3/4 of the sauce over the wings, turning with tongs to coat the wings well. Then, place the wings on a platter and sprinkle with sliced scallions. Finally, pour the remaining sauce in a bowl for dipping. Enjoy!