Bone Suckin' Rubbed Short Ribs
2023-04-12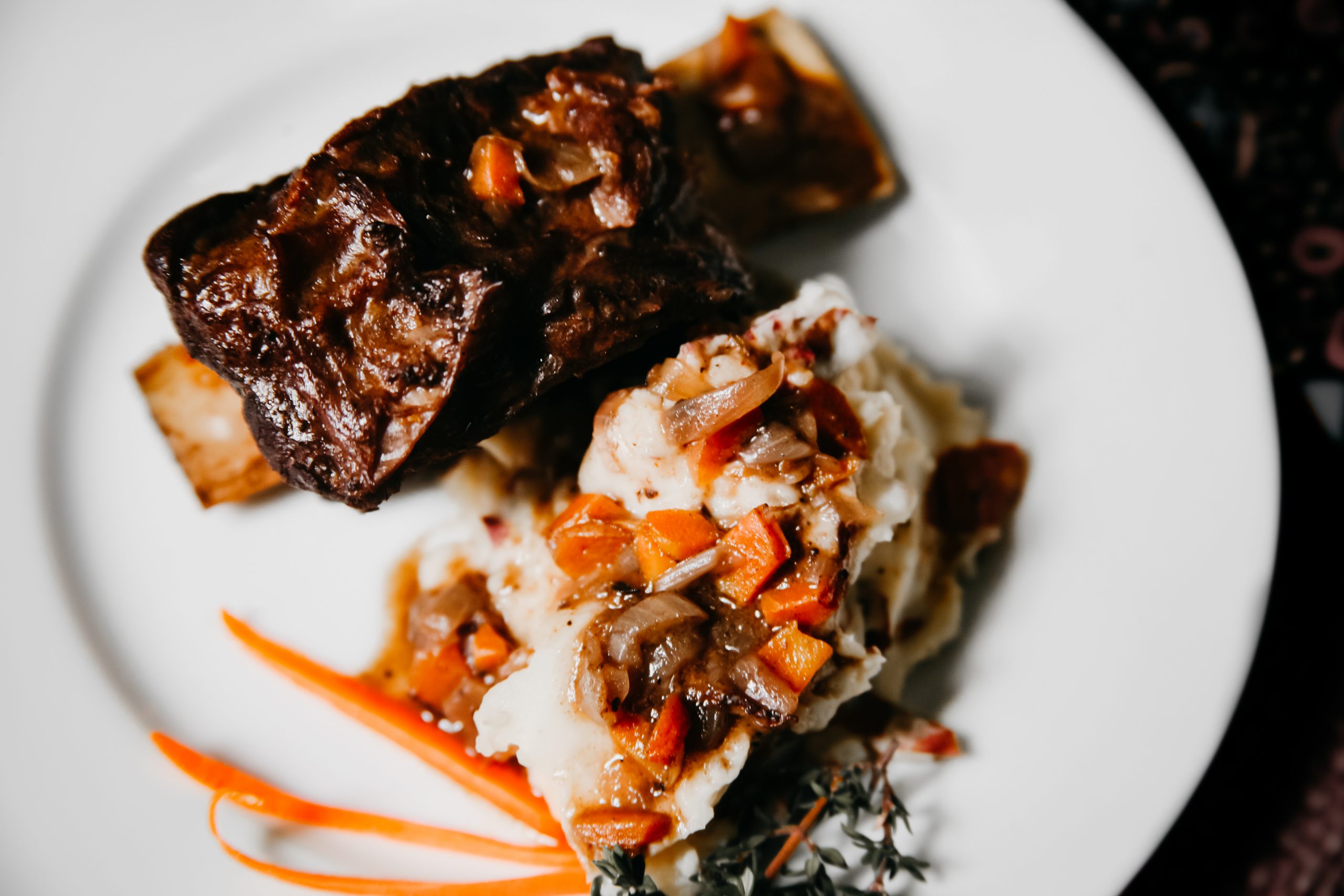 Yield:

8

Servings:

8

Prep Time:

20m

Cook Time:

6:00 h

Ready In:

6:20 h
Ingredients
Bone Suckin'® Seasoning & Rub , 4 Tbsp
Beef Short Ribs, 8
All Purpose Flour, 1/4 cup
Pieces of Pancetta, 6
Olive Oil, 2 Tbsp
Medium-Sized Onion, 1
Whole Carrots, 3
Whole Shallots, 2
Red Wine, 2 cups
Beef or Chicken Broth, 2 cups
Sprigs of Thyme (whole), 2
Sea Salt and Pepper
Method
Step 1
In a medium, flat bottomed container, mix Bone Suckin'® Seasoning & Rub, sea salt, pepper and flour. Dredge the ribs, covering all sides, in the dry mix. Set aside.
Step 2
In a large skillet, over medium heat, cook the pancetta until crispy. Remove the pancetta and set aside. Do not discard the grease.
Step 3
Add the olive oil to the pancetta grease and raise the heat to high. Brown the ribs on all sides, about a minute per side. Remove the ribs and set aside. Turn heat to medium.
Step 4
Place the onions, carrots and shallots in a skillet and sauté for 5 minutes. Add wine to skillet, stir and bring to a boil for 2 minutes. Add broth, salt and pepper to taste.
Step 5
Put the ribs in a slow-cooker and pour broth over ribs. Add sprigs of thyme to slow-cooker.
Step 6
Cook the ribs in a slow cooker for at least 6 hours or more if you would like. The meat should be falling off the bone and in wonderful gravy. Enjoy! Notes: This is a dish that is also better the next day. It can be refrigerated, but the fat that solidifies should be skimmed off the top. Reheat and serve over Bone Suckin'® Goat Cheese Potatoes or rice!