Bone Suckin' Chicken Enchiladas
2023-04-11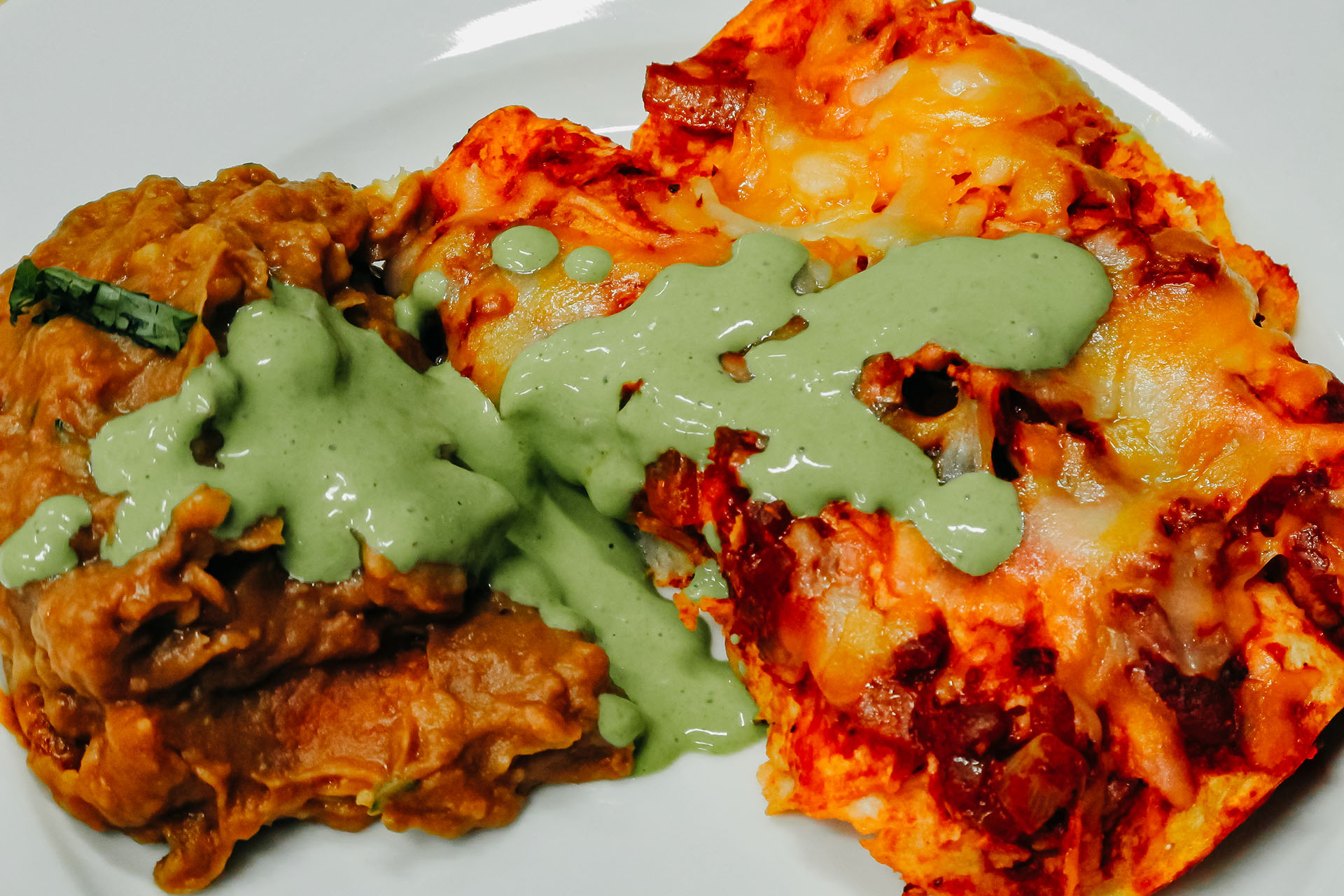 Yield:

4

Servings:

4

Prep Time:

15m

Cook Time:

40m

Ready In:

55m
Ingredients
BONE SUCKIN' ENCHILADA SAUCE
Bone Suckin'® Steak Seasoning & Rub, 3 Tbsp
Dried Guajillo Chilies , 10
Water, 4 cups
Garlic Cloves, 2
Large Yellow Onion, 1
Olive oil, 2 Tbsp
Oregano, 1/4 tsp
Sea Salt
BONE SUCKIN' CHICKEN ENCHILADAS
Bone Suckin' Sauce®, 1 cup
Bone Suckin'® Enchilada Sauce, 2 cups
Chicken Breast, 4
Gluten Free Corn Tortillas, 12
Sharp Cheddar Cheese or Monterey Jack, 1 cup
Method
Step 1
Place chilies in a medium pot with water. Bring water to boil for 5 minutes, remove the pot from heat and set aside to cool.
Step 2
In a skillet, heat olive oil to medium high. Add onions and 1 tablespoon of Bone Suckin'® Steak Seasoning & Rub. Cook for 5 minutes or until the onions are soft and transparent. Set aside.
Step 3
When the chilies have cooled to the touch, pull the chilies out (save water) and remove their stem and seeds.
Step 4
Place all of the chilies in a blender with cloves of garlic and 2 tablespoons of Bone Suckin' Steak Seasoning & Rub. Add ½ cup of chili water (without stems and seeds) and blend until the sauce has a smooth consistency.
Step 5
Pour the sauce over the onions in the skillet, stir and bring to a boil for 2 minutes. Add salt to taste. May be used for enchiladas or frozen for future use. This recipe makes enough sauce for 2 dozen enchiladas.
Step 6
Preheat the grill to medium high.
Step 7
In a medium bowl, pour in ½ cup of Bone Suckin' Sauce®. Add the chicken and coat well with sauce.
Step 8
Place the chicken on the grill. Cook the chicken for 10 minutes per side. Baste the chicken with ½ cup of Bone Suckin' Sauce® while cooking. The internal temperature for the chicken should be 165˚ F.
Step 9
Let the chicken cool to the touch and then shred. Preheat oven to 350˚ F.
Step 10
Heat the tortillas on a griddle or in a frying pan for 2 minutes per side on medium heat. Dip tortillas one by one through the warm Bone Suckin'® Enchilada Sauce, coating both sides.
Step 11
Spread the shredded chicken in a thin straight line down the middle of a tortilla and top with a tablespoon of enchilada sauce. Roll tortilla into a tube and place into a large casserole dish. Repeat until all of the tortillas are used. Spread Bone Suckin'® Enchilada sauce liberally over the chicken stuffed tortillas. Top with cheese and bake for 20 minutes or until the enchiladas are hot and the cheese is melted.
Step 12
Serve with Refried Beans and a light Cilantro Cream Sauce. Enjoy!