Bone Suckin' Roasted Pork & Winter Fruits
2023-04-13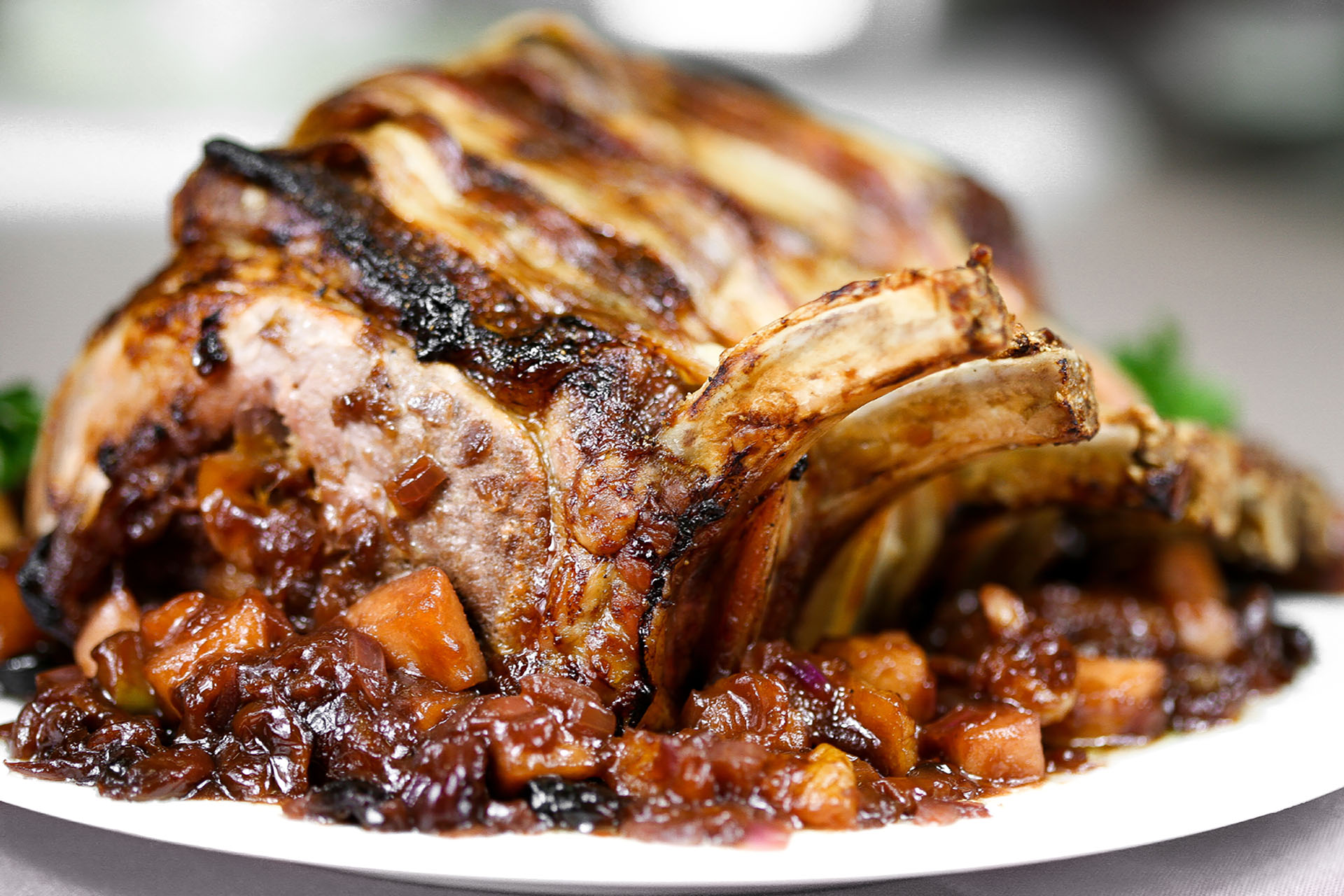 Yield:

8

Servings:

8

Prep Time:

15m

Cook Time:

3:00 h

Ready In:

3:15 h
Ingredients
STUFFING:
1 tbsp Bone Suckin'® Yaki®
1/4 lbs Dried Apricots
1/4 lbs Dried Cherries
2/3 cup Ruby Port
1 Onion
1 Small Shallot
1 Granny Smith Apple
ROAST:
6 LBS Bone-in (Ribs) Pork Loin Roast
4 Bacon Slices
1 1/2 tsp Sea Salt
1/2 tsp Pepper
PORT SAUCE:
1/2 CUP Bone Suckin'® Yaki®
1/2 cup Ruby Port
1 Small Shallot
1 1/2 cups Water
2 tsp Arrowroot
Method
Step 1
FOR THE STUFFING: Simmer the apricots, cherries and port in a small saucepan, covered, for 5 minutes. Remove from heat and let the fruit stand for 10 minutes.
Step 2
Cook the onion, shallot and Bone Suckin'® Yaki® in butter in a skillet over medium heat, stirring occasionally, until softened, about 4 to 5 minutes. Add the apple, cook and stir occasionally for about 5 more minutes, until the apple is tender. Stir in the apricot mixture and cool.
Step 3
FOR THE ROAST: Preheat the oven to 500˚ F with the rack in the middle of the oven.
Step 4
Make a pocket in the center of the roast by making a horizontal 1 1/2 cut into 1 end of the roast with a long thin knife, repeating from the opposite end so the pocket runs all the way through the roast. Then make a vertical cut through the center (forming a cross) to widen the pocket. Push about 1 cup of stuffing into the pocket on one end and then 1 cup into the other end. Reserve the remaining stuffing for sauce.
Step 5
Transfer the roast to a cutting board (reserve pan) and loosely cover with foil. Let stand for 20 minutes.
Step 6
FOR THE PORT SAUCE: Skim the fat from pan drippings and reserve 1 1/2 Tbsp. of fat. Pour the drippings into a saucepan and add port. Then deglaze pan by bringing to a boil over high heat, stirring and scraping up the browns bits for 1 minute. Strain the pan juices through a fine-mesh sieve into a bowl, discarding solids.
Step 7
Cook the shallot in reserved fat, in a medium saucepan, over medium heat, stirring occasionally, until softened, about 3 minutes. Stir in pan juices, 1 1/4 cup of water, Bone Suckin'® Yaki® Sauce and reserved fruit stuffing. Bring to a simmer. Whisk together arrowroot and remaining 1/4 cup of water until smooth. Whisk into the sauce with any juices from the cutting board.
Step 8
Simmer sauce, whisking occasionally, until slightly thickened, about 5 minutes. Season with sea salt and pepper.
Step 9
After cooking the food, carve the roast into chops by cutting between ribs and then serve with sauce. Enjoy! *Note: Stuffing can be made 2 days ahead and chilled. Uncooked roast improves in flavor if chilled, stuffed, seasoned, and wrapped with bacon 1 day ahead. Bring to room temperature before roasting.