Bone Suckin' Pork Tenderloin with Apples & Onions
2023-04-05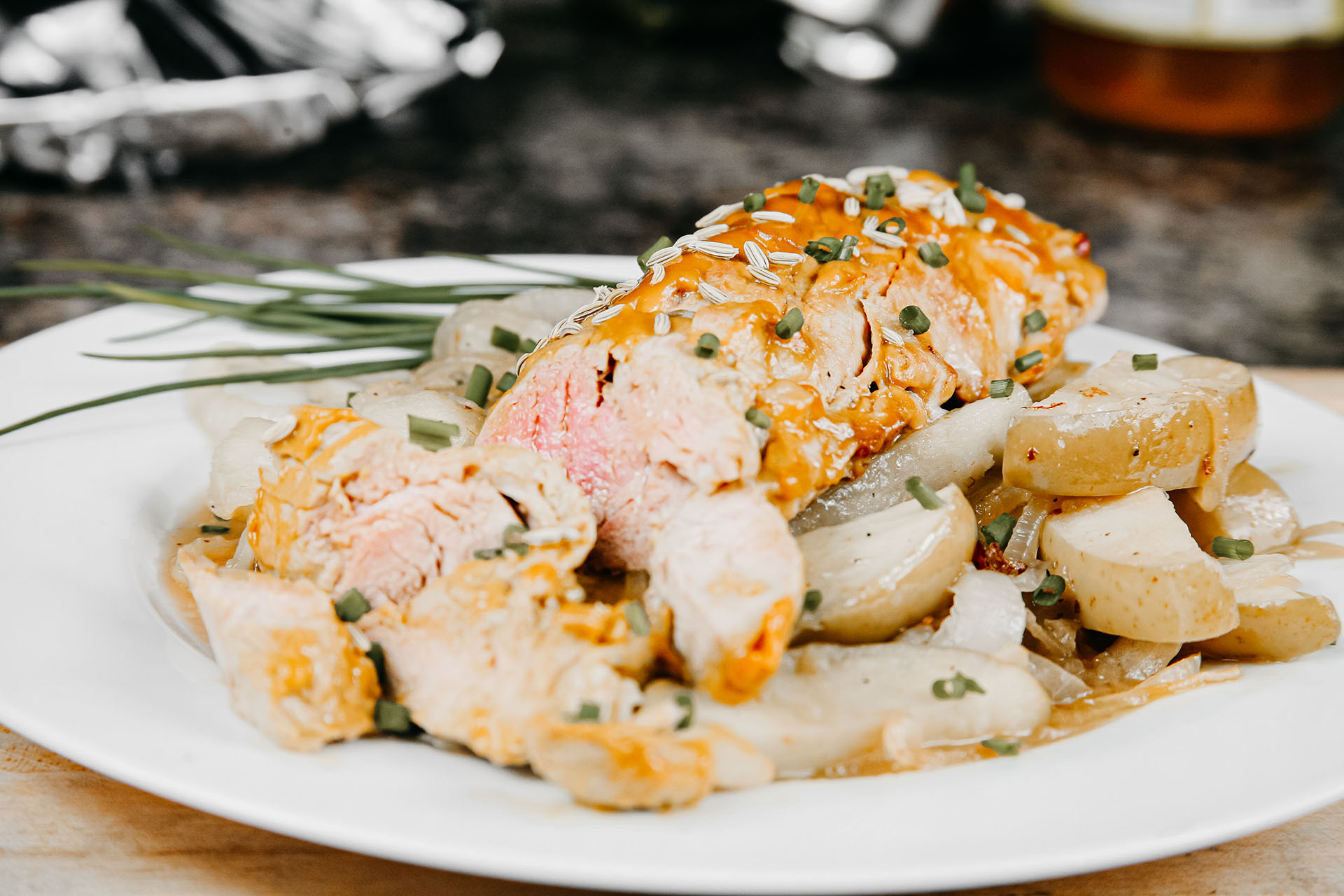 Yield:

4

Servings:

4

Prep Time:

20m

Cook Time:

40m

Ready In:

60m
Ingredients
Bone Suckin'® Sauce Mustard,1 cup
Large Pork Tenderloin, 1
Olive Oil, 4 Tbsp
Fennel Seed, 2 tsp
Large Onion, 1
Granny Smith Apples, 2
Apple Cider, 1/2 cup
Method
Step 1
Before cooking food, preheat the oven to 450° F.
Step 2
Season the pork with sea salt and pepper. Heat 2 Tbsp. of oil in a large ovenproof skillet over medium high heat. Add the pork and sear all of the sides until the pork is brown. Transfer the pork to a plate and let it cool slightly. Spread Bone Suckin'® Mustard over the top and sides of the pork. Press fennel seeds into the Bone Suckin'® Mustard on the pork and set aside.
Step 3
Add the remaining olive oil to the skillet and heat to medium heat. Add the onions and cook until they are translucent. Put 1/2 of the apple slices in with the onions in the skillet and continue to saute for 5 minutes. Place the mustard covered pork on top of the apple and onion mixture and place the rest of the apples around the pork. Place the skillet in the oven and cook for 30 minutes or until the pork registers 150° F on a meat thermometer.
Step 4
Transfer the pork, apples and onions onto a large platter leaving as many drippings in the skillet as possible. Pour the apple cider into the skillet, turn the heat up to a medium high and simmer for 5 minutes. This should reduce to make a syrupy sauce. Drizzle the sauce over the apple and onion mixture around the pork. Enjoy!