Bone Suckin' Cream of Mushroom Soup
2023-04-13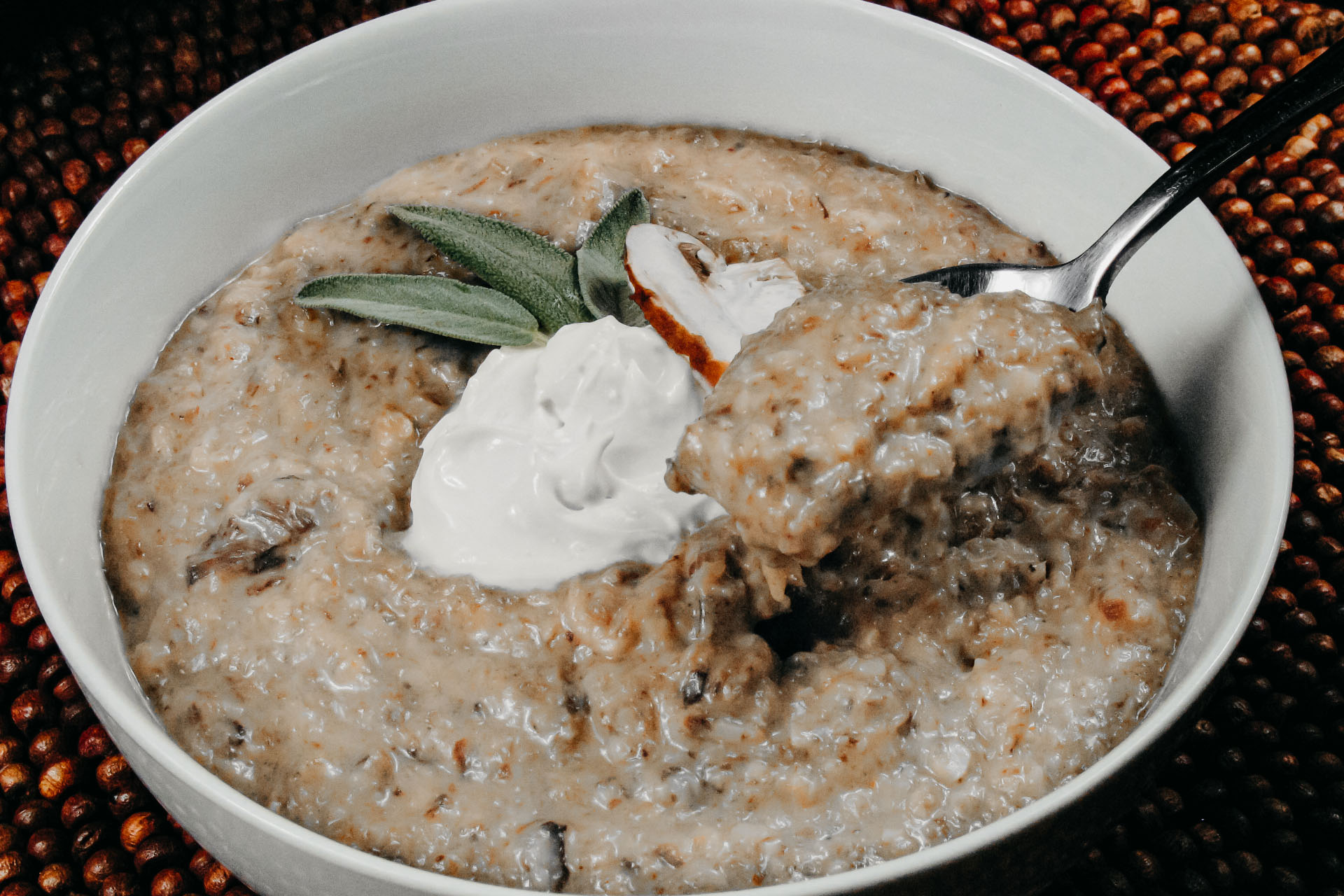 Yield:

6

Servings:

6

Prep Time:

50m

Cook Time:

60m

Ready In:

1:50 h
Ingredients
Bone Suckin'® Chicken Seasoning & Rub, 2 Tbsp
Dried Mushrooms, 1 oz
Olive Oil, 1/2 cup
Yellow Onion , 1
Garlic, 3 tsp
Sea Salt, 1/2 tsp
Ground White Pepper, 1/4 tsp
White Button Mushrooms, 1 lbs
Shiitake Mushrooms, 1 lbs
Tomato paste, 2 Tbsp
Red Wine, 1/2 cup
Chicken Stock, 6 cups
Heavy Cream, 1 cup
Butter, 2 Tbsp
Method
Step 1
Soak the dried mushrooms in 1 cup of warm water for 20 to 30 minutes, until they are plump.
Step 2
Strain the soaking liquid through a coffee filter in a strainer to remove the grit. Keep the reserve and reconstituted mushrooms until needed.
Step 3
Heat the olive oil in a large pot over medium heat. Add Bone Suckin'® Chicken Seasoning & Rub, onion, garlic, salt and pepper and cook for 5 minutes, until the onions are translucent, but not brown.
Step 4
Turn the heat to high and add the white mushrooms, shiitakes, tomato paste and wine. Cook for 10 minutes during which time the mushrooms will give off their liquid and deflate. (This liquid should evaporate quickly because of the high heat.) Stir occasionally.
Step 5
Add the chicken stock, dried mushrooms, and mushroom reserve. Simmer for 30 minutes. Turn the heat off for about 15 minutes and let soup cool down. Add the cream and butter and stir well.
Step 6
Working in batches, puree the soup until smooth in a food processor or blender. Return the soup to the pot and simmer on a low heat, until ready to serve. Serve the soup topped with a dollop of sour cream or crème fraiche. Enjoy! *Note: To prepare vegetarian, substitute vegetable stock for chicken stock.