Bone Suckin' Asian Chicken Salad
2023-04-06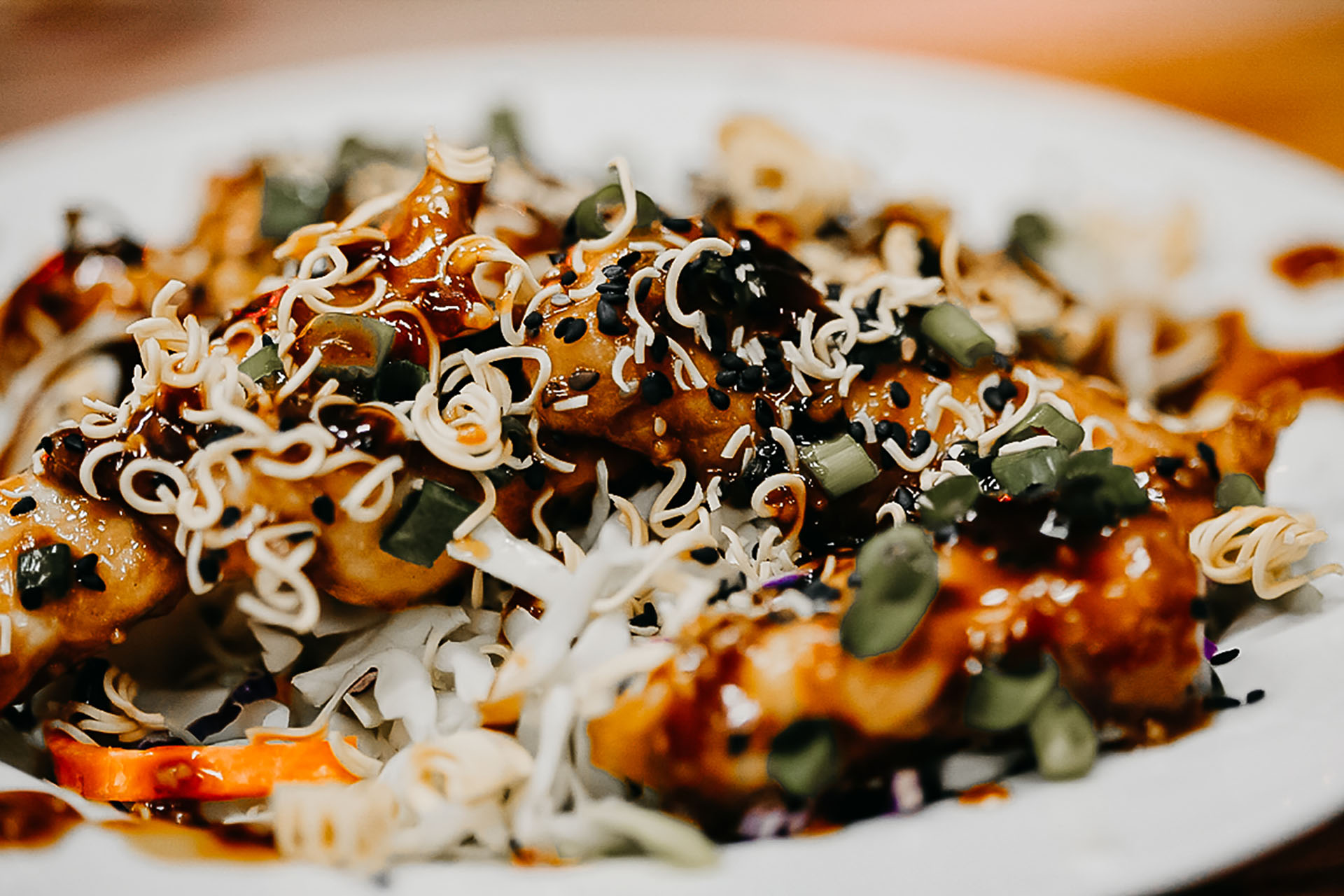 Yield:

6

Servings:

6

Prep Time:

10m

Cook Time:

20m

Ready In:

30m
Ingredients
13.25 oz Bone Suckin'® Yaki®
1 tbsp Bone Suckin'® Hiccuppin' Hot® Habanero Sauce
1 tbsp Garlic
1 tbsp Cornstarch
1 tbsp Water
6 Chicken Breasts
1 cup Rice Flour
1/4 cup Peanut Oil
8 oz Mushrooms
1/2 Head of Green Cabbage
1/2 Head of Red Cabbage
1/2 Shredded Carrots
1/2 cup Bean Sprouts
1 cup Scallions
1 Pkg Chinese Misua Noodles
1/2 cup Fire Dancer® Jalapeno Peanuts
4 tbsp Sesame Seeds
Sea Salt and Pepper
Method
Step 1
In a saucepan, pour together Bone Suckin'® Yaki® Sauce, Bone Suckin'® Hiccuppin' Hot® Habanero Sauce and minced garlic. In a small bowl, combine cornstarch and water; mix well. Add cornstarch mixture to saucepan. Gently stir and heat sauce on low heat.
Step 2
Slice chicken breast into very thin, long strips and place in a resealable bag. Add rice flour, sea salt and pepper into bag with chicken and shake, coating the chicken well.
Step 3
Heat peanut oil in a large skillet to medium high. Place chicken in peanut oil and sauté for 10 minutes, constantly turning to ensure it is done thoroughly. Place cooked chicken on paper towel covered plate to drain.
Step 4
Pour off all but a tablespoon of oil from the skillet. On low heat add 1/4 cup of the sauce that was made from the combination of Yaki and Hiccuppin' Hot® Habanero Sauces, mushrooms, 1/2 cup scallions and bean sprouts to sauce. Let simmer for 2 minutes. Add sautéed chicken to skillet and coat with 1/2 cup of sauce. Sprinkle chicken with toasted sesame seeds liberally.
Step 5
Mix green & red cabbage and shredded carrots in a bowl and toss. Place 1 cup of shredded cabbage on plate, spoon chicken with mushrooms, scallions and bean sprouts over cabbage. Garnish with scallions, chopped peanuts, toasted noodles and drizzle with additional sauce if needed. Enjoy!